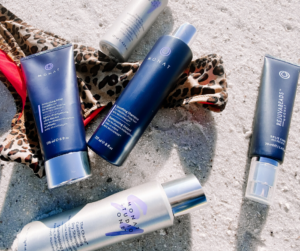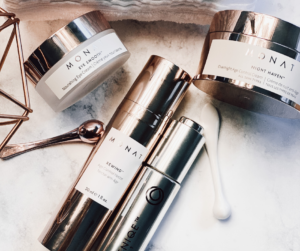 Monat Haircare
Monat Haircare is a collection of premium luxury products that are gluten-free, toxic-free, vegan, and cruelty free. You will not find a company who has done the level of research and sourcing the way monat has to ensure each of their products are consistant and fufill their claims of great hair. The company is still very young and is the leading haircare company in the world at this time. This is an amaizing feet considering they are not a traditional store-bought commercial brand.
There is a haircare line for just about every type of hair and it's important we work together to find out which suit you the best. While I don't pretend to be a "hair expert" at the end of the day… this is shampoo, not medical treatment. Right? As a Market Partner I'm here to guide you towards your best hair given the challenges and goals you have fore those tresses.
Want to browse the haircare line? You can do that here.
Monat Skincare
Monat skincare is new to the Monat family as of 4th quarter 2019. After years of success in their haircare niche, they opened the door with a full spectrum of skincare including cleansers, serums, moisturizers and more. This line is getting incredible attention from various media outlets like Vogue, Forbes and Similar media outlets.
Like the haircare, there is a line that best suits your skin so it's important we talk about what you need so we can help you get the best results. Personally, I love this line and am looking forward to seeing the results of how my skin changes over the years by using quality, vegan, toxic free, and cruelty free products.